***Any trial period or free offers may be subject to additional terms
As the world changes, we rely more and more on technology to help us with daily life. The healthcare sector has realized this and decided to keep up with this changing trend.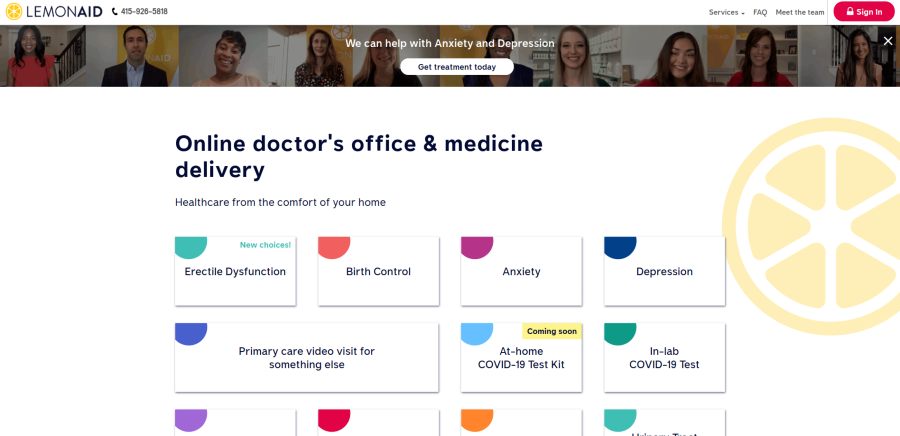 Generally speaking, people don't have time to travel into the inner-city for a doctor's consultation. Only to then have to travel again every month to pick up their prescription. This is when a company like Lemonaid is much needed. To save us all time and money!
So who exactly are Lemonaid?
The telemedicine company has been operating since 2013. It's fair to say they know their way around the industry. The company's goal is to provide America with safe, effective, and affordable treatments.
Lemonaid is not just an average team. They employ a range of experts in health care, and they use their own developed technology.
Can this company be trusted to help you with issues such as erectile dysfunction? Well, let's find out in this full Lemonaid review!
Is Lemonaid a Legit Website?
The reason they have been around for this long is that they provide an honest, affordable, and reliable service. There's a boom in health websites trying to sell you all sorts of prescriptions online. However, not many stick around for that long. Lemonaid has focused on the long-term, and tried to stay true to their word of supplying safe and affordable treatment at the click of a button.
You can also view their team of experts. They are all shown within a page on the website that displays their name, and expertise, etc. There's also a direct number you can use to ring up the company with any queries you may have – or you can just check out the FAQ page. Overall, everything is operated as a professional medical care service.
How Does It Work?
So how does it all work? Well, let's find out! It's all very easy. You can download the free Lemonaid app, and get treatment from the comfort of your home. You just log onto the app, and you will be assisted by a medical expert. Don't worry, Lemonaid is very transparent with their staff. So, you will get to know the medical assistant that's helping you.
Let's take a look at the general process of getting a subscription:
The first step is to fill out a questionnaire regarding your health needs, and a brief description of your medical history.
Then, it's time for a medical expert to review your information. If they can move forward with your requirements, you will have to pay a small fee of $25. Also, you may have to take a short video-call. Don't worry though, not everyone has to do this!
If all goes well, it's time to get your prescription. You can either pick this up at your nearest pharmacy. Or, dependant on the medication, you can get it sent directly to your home.
If needed, you can just ask for a repeat prescription.
The website sells legit treatment. Best of all it comes in a discreet bottle, and it will be delivered to your doorstep within a few days! If you have any questions about the product, you could always have a call with one of the medical experts.
What Other Medication Do They Sell?
Lemonaid supplies erectile dysfunction treatment and a lot of other treatments! They really do try to cover healthcare in all corners. Here are the categories they can help you with;
Skin/hair conditions
Sexual health
Primary care consultation
Cold/flu
Blood tests
Mental health
Various chronic health concerns
Pros and Cons Of Using Lemonaid
Pros
Get medication from the comfort of your own home.
Cost-effective service.
Transparency with all their healthcare practitioners.
Lemonaid treats more medical problems than most competitors.
Cons
You may still need to visit a test center for some of the treatments.
The service is not available in every state.
Final Thoughts
We can safely state that Lemonaid is one of the highest-rated telemedicine companies we've reviewed. They offer a large range of medical treatments. And, their service is; professional, affordable, discreet, and fast! Best of all, everything can be done from the comfort of your own home.
We receive advertising fees from the service providers we rank below. Advertising Disclosure
learn more